Georgia is a small, beautiful country in the Southern part of the Caucasus with number of national parks, beautiful villages, cities and towns. The nature here is very diverse and landscape can change dramatically just after half an hour drive. It is also important to note that Georgian food & wine is very special and distinctive. Our country has famous dishes like Khachapuri, Elarji, Gebjhalia, Khinkali, Mtsvadi and many more as well as more than five hundred endemic Georgian grape varieties therefore great wines. Georgia has lot to offer but this time we will describe seven must see destinations that people wishing to visit Georgia should keep in mind.
Tbilisi
Founded in the fifth century, Tbilisi is a very old and beautiful city. Owing to its location on the border of two continents, Tbilisi has always been an important place for traders and the trade made the city rich. The city has very distinctive architecture with both western and eastern influences and is the home to numerous churches with some of them dating from 6th and 7th centuries like Anchiskhati and Sioni.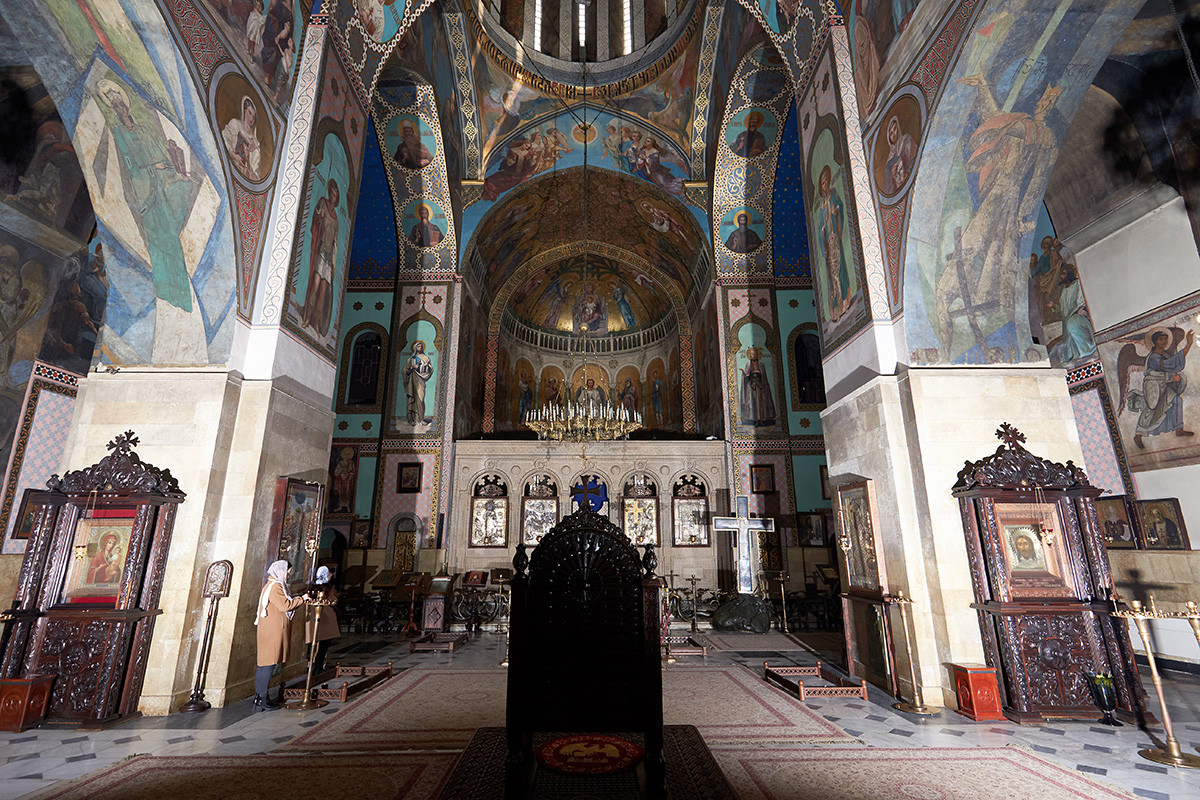 Sioni Church in the old town
The old town is very charming with cobbled streets, beautiful balconies, beautiful houses, sulfur baths and with cozy & tasty cafes and restaurants. The most interesting part of the city is the old town inside the historical walls while the fragments of the wall can still be seen. Also very interesting are the areas around Rustaveli Avenue called Sololaki, Mtatsminda and Vera. Moreover, the other bank of the river Mtkvari and the area around Aghmashenebeli Avenue should not be underestimated and should also be explored.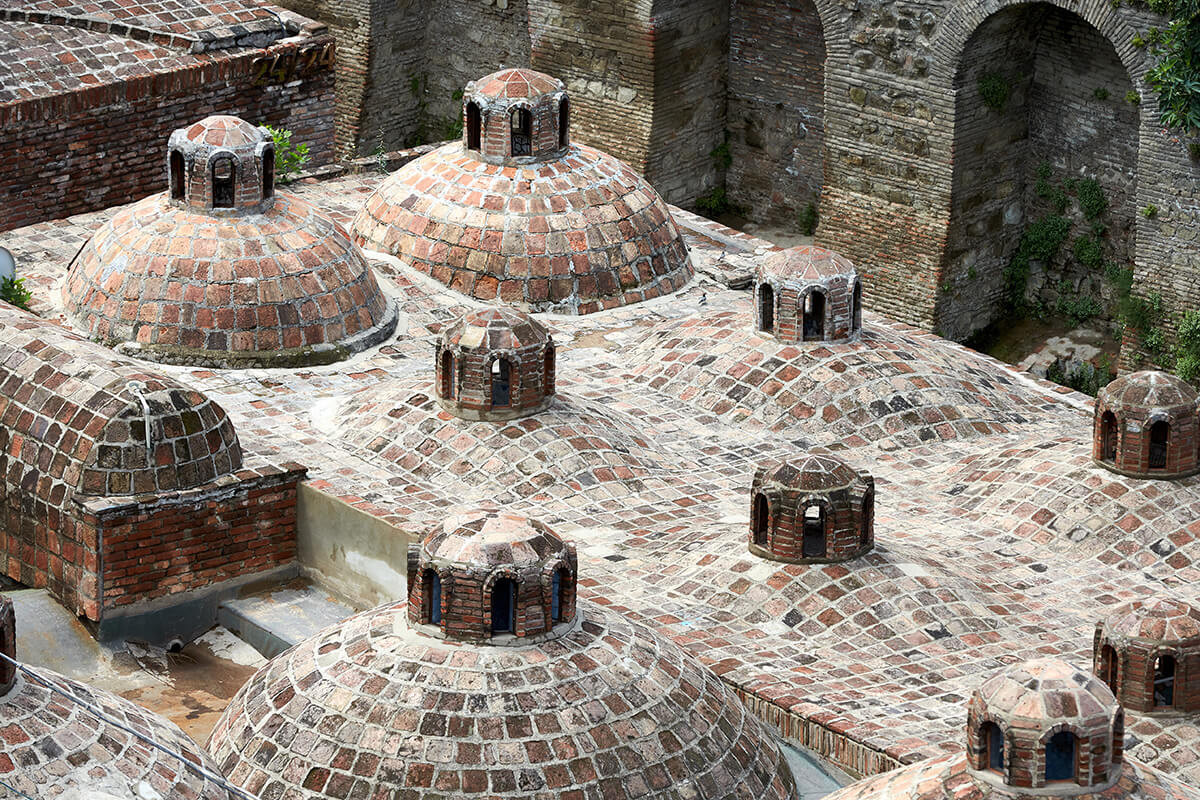 Sulfur Baths in the old town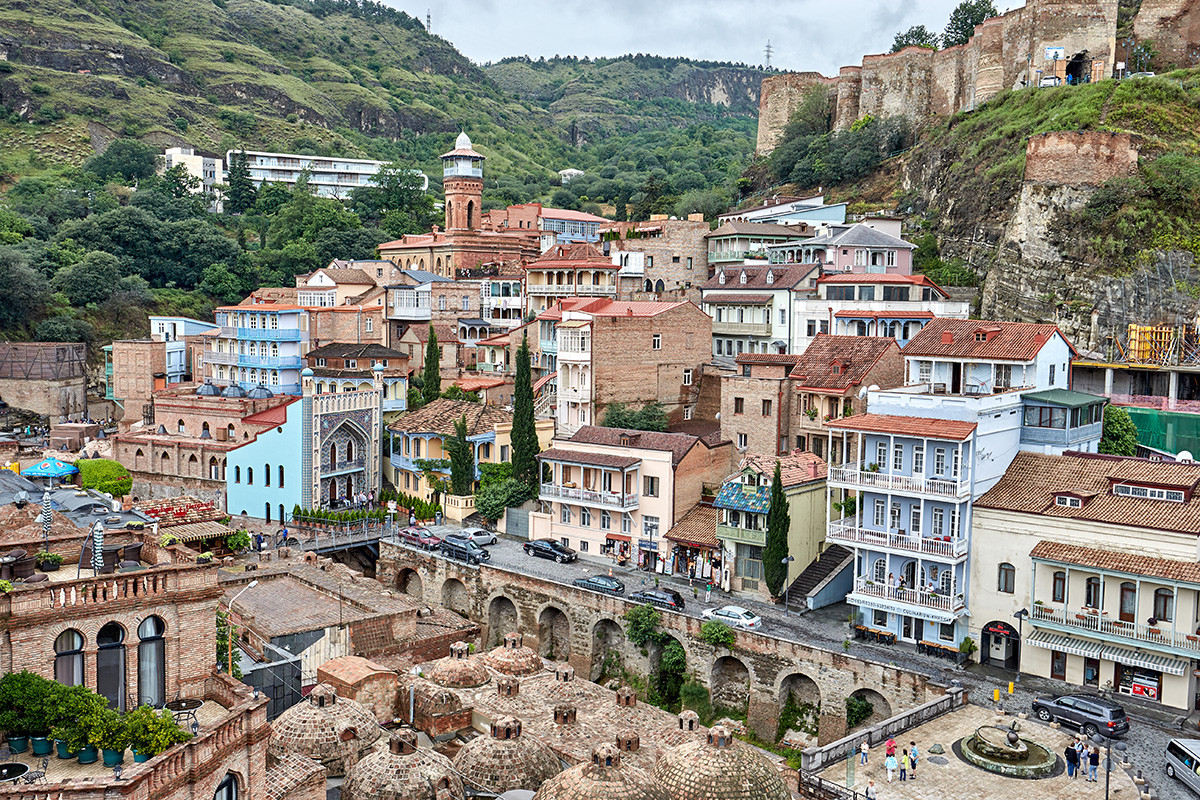 The old town
Stepantsminda/Kazbegi
Stepantsminda or as many people still call it Kazbegi is one of the most beautiful mountain towns not only in Georgia but in Europe as well owing to the view on gorgeous Mount Kazbegi.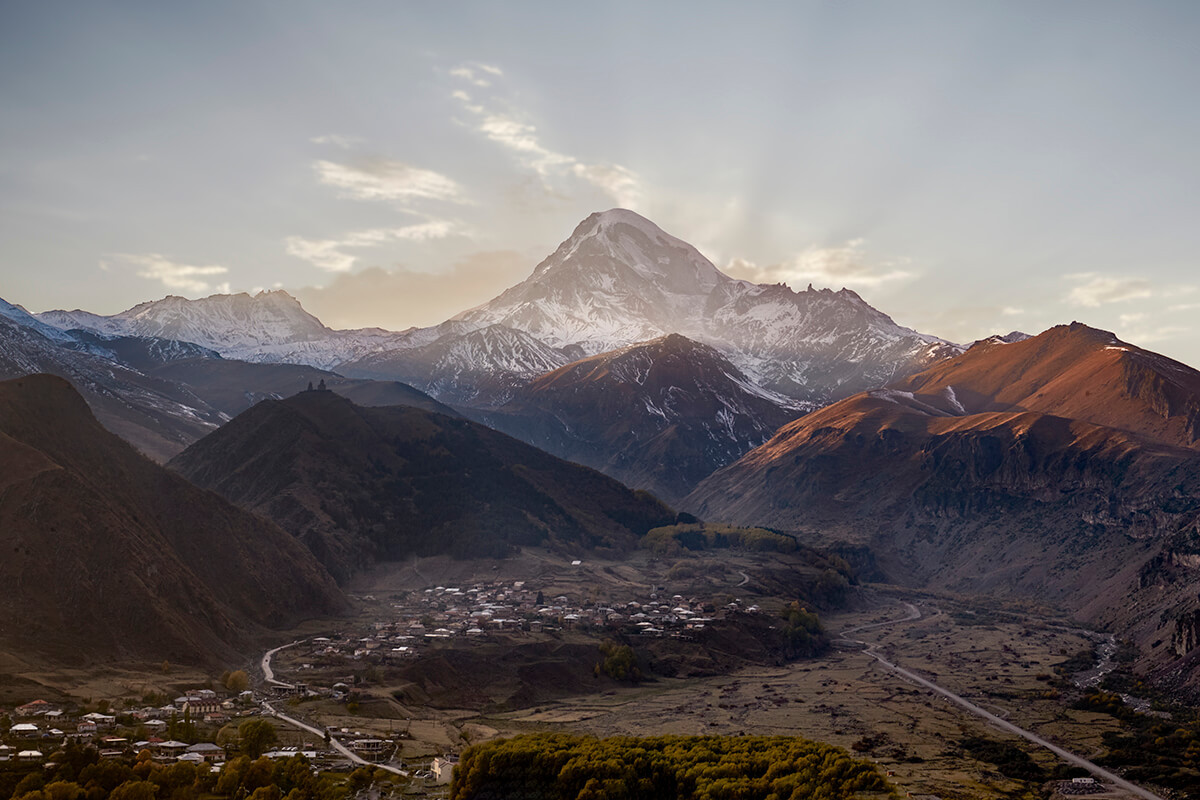 Mount Kazbegi
The town is in three hours of scenic drive from Tbilisi and the drive is definitely worth the view, good food and beautiful hikes. The famous must dish that one must try in Stepantsminda is Khinkali which itself comes from the mountains. Khinkali is a dumpling with minced meat and spices inside.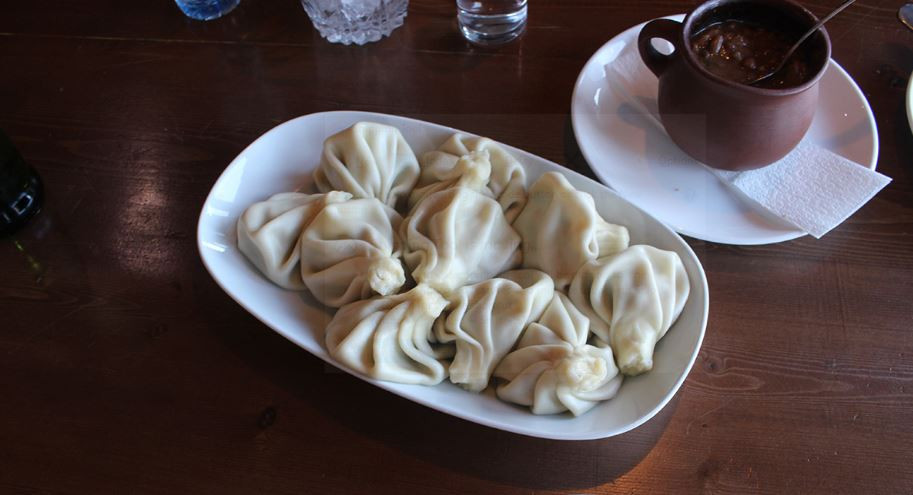 Khinkali
Stepantsminda has lot of activities to offer to adventure lovers. There are gorges where activities like hiking, trekking and biking can be done. Also the must place that one must visit in Kazbegi is the 14th century Gergeti Trinity Church. It is possible to hike from the town to the church which is of moderate difficulty and takes two hours one way. Also must visit places are Dariali gorge where one can hike to Gveleti waterfalls, Truso gorge with its beautiful travertine stones and Juta with its beautiful mountain range.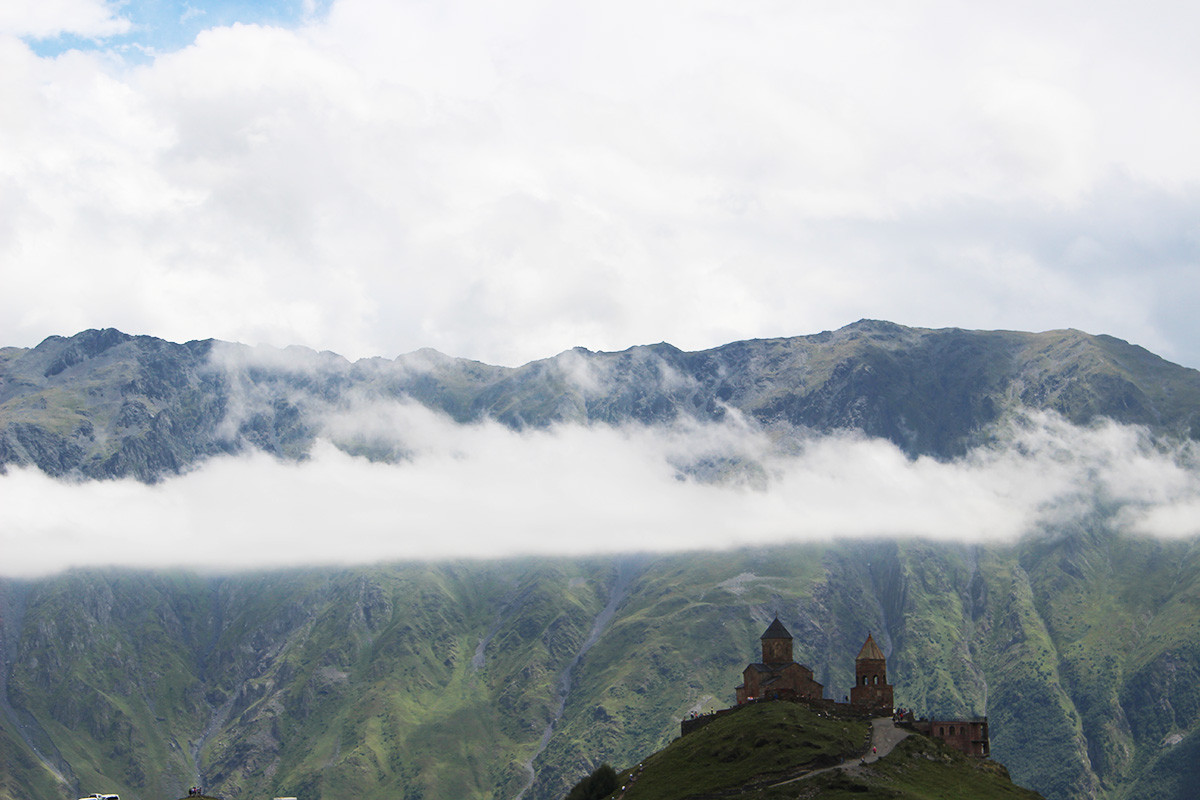 Gergeti Trinity Church
The best hotel with the best view in Kazbegi is Rooms Hotel. The price per night during the high season is around 170 USD for double room, however it is definitely worth the view and the comfort that the hotel offers.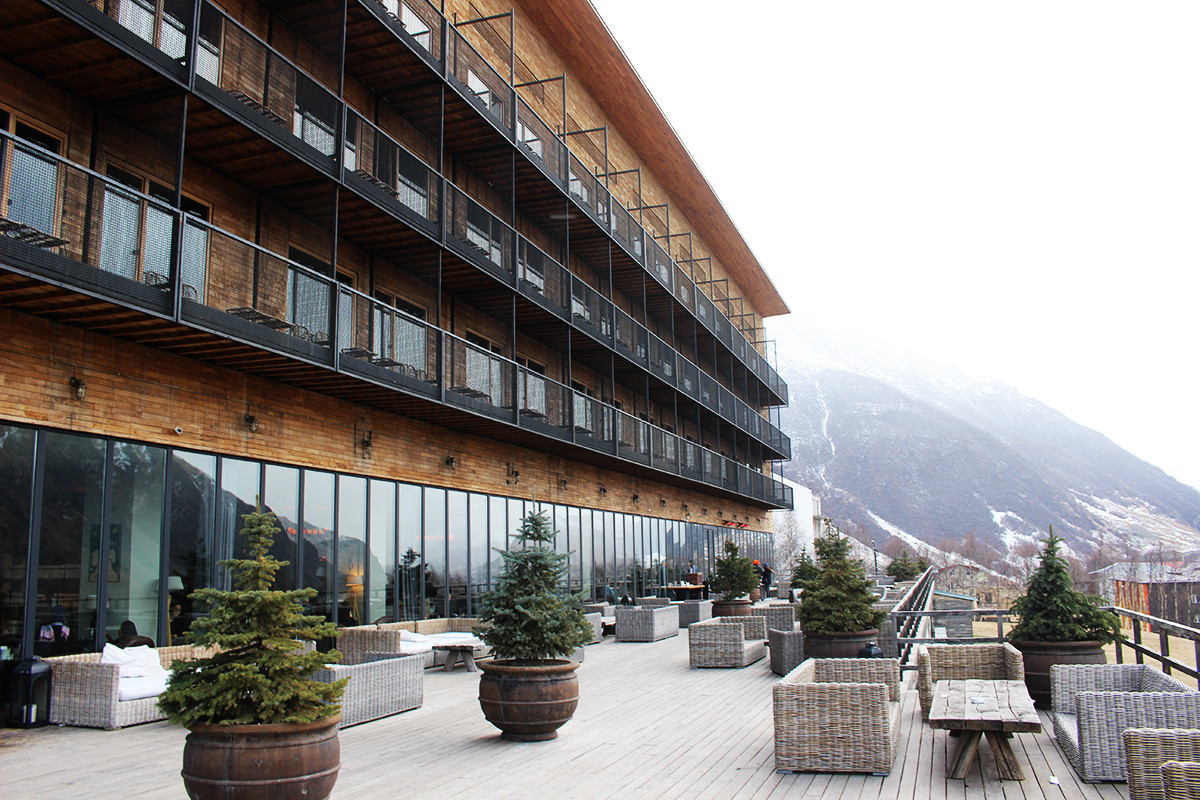 Rooms Hotel in Kazbegi
Batumi
Batumi is the main seaside resort of Georgia with its buzzing nightlife and very vibrant lifestyle. The old part of Batumi with its beautiful cafes, restaurants and shops is very charming. While being in the old town you should not miss Piazza - the main square of the old town with its distinctive architecture. The boulevard of Batumi is very famous due to various plants and trees that create very pleasant scenery and the shade during the hot season.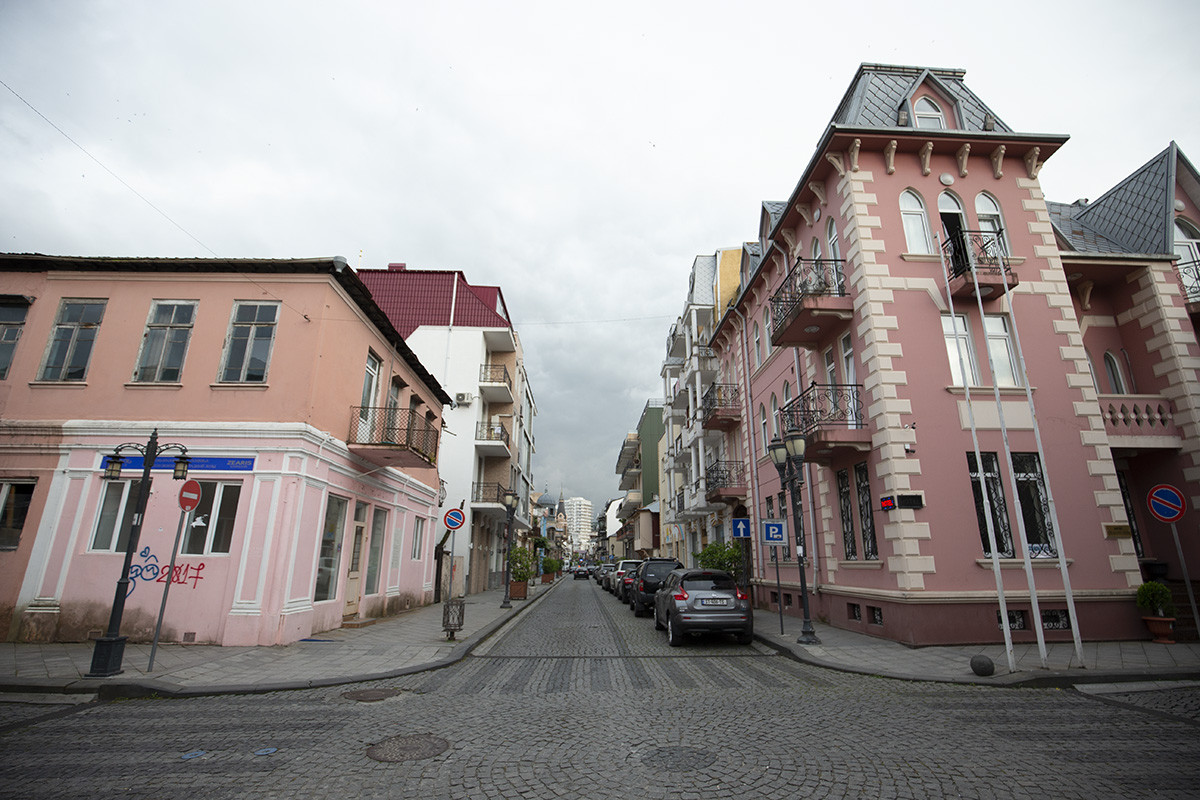 The old town of Batumi
The city is a very popular place for those people who like to gamble. In both the old and the new part of Batumi there are luxury hotels which house casinos and host people from all around the world. For those people who do not like to gamble and would like to have different kind of fun there are bars like Sector 26, Soho, Take 5 where it is possible to enjoy the music and have some good cocktails. The beaches of Batumi are mostly very crowded so if you do not like crowded beaches there are several options close to the town like Mtsvane Kontskhi, Chaqvi, Tsikhisdziri and Sarpi. Although, in the summer even those ones might be crowded but sure not as crowded as the ones in the city. If you would like to try Georgian food in Batumi restaurants like Adjarian house, Megrul-Lazuri and Askaneli are very good.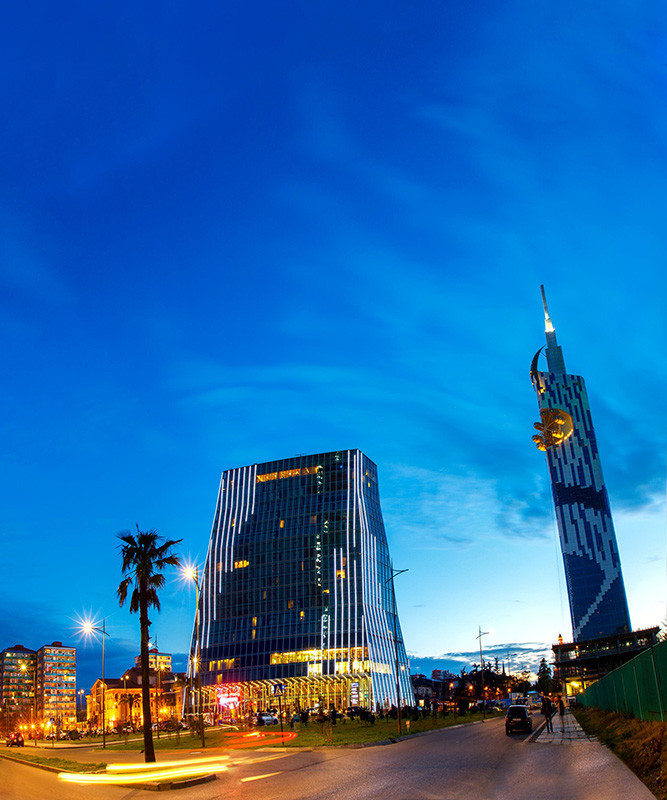 Luxury hotels Radisson and Le Meridien in Batumi
For those people who like hiking the mountains around Batumi are awesome. The national parks of Machakhela and Mtirala offer easy, moderate and difficult hikes. Also it is possible to swim in the pristine waters of mountain rivers and enjoy activities like zip lining. Moreover, nature lovers should not miss the Botanical garden of Batumi which is the home to numerous plants from more than hundred countries. A walk in the botanical garden is worth experiencing due the scenery and the views on the seaside.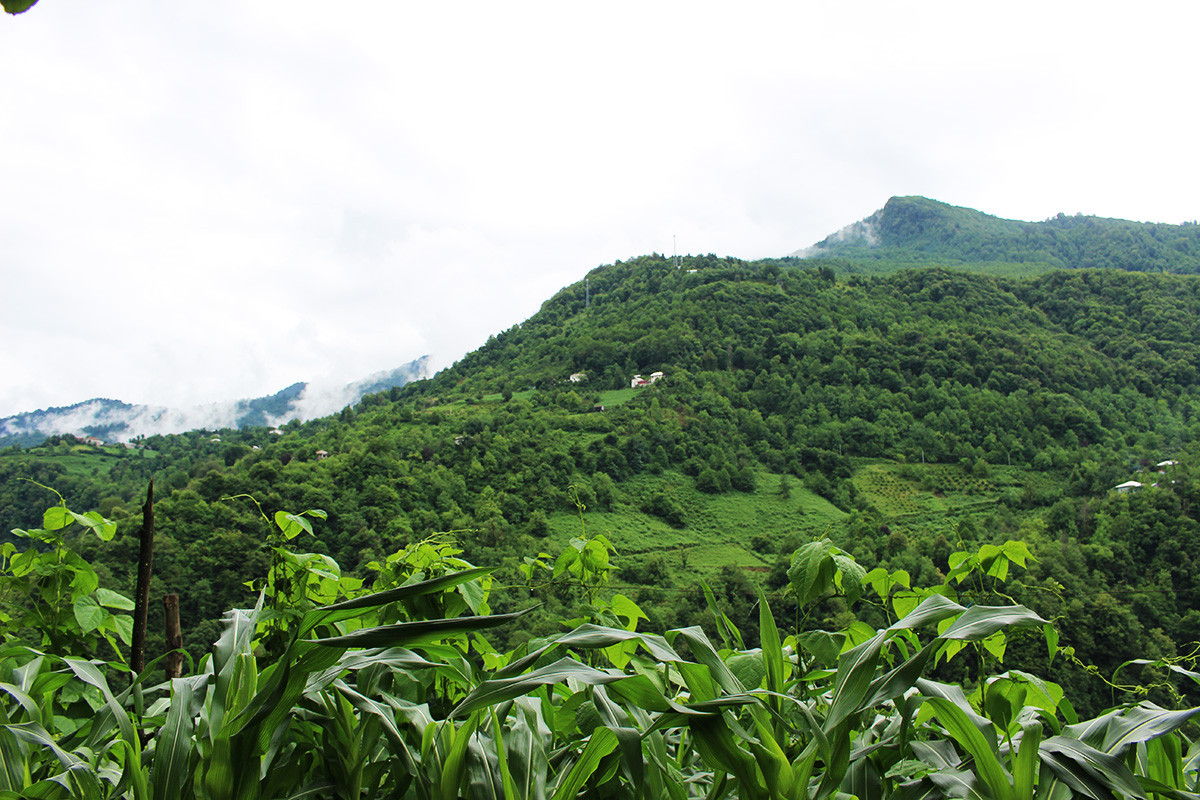 Machakhela National Park near Batumi
Mtskheta
Mstkheta is the ancient Georgian capital and the Unesco World Heritage site owing to the two Christian religious monuments. The town itself is very small however cozy with beautiful cobbled streets and authentic houses. The most important monuments in Mtskheta that guests should definitely see are Svetitskhoveli cathedral and Jvari monastery. Jvari monastery was built in the 7th century while Svetitskhoveli cathedral in the beginning of the 11th century. Mtskheta is in half an hour drive from Tbilisi so people wishing to visit it can easily take a taxi and visit both monuments.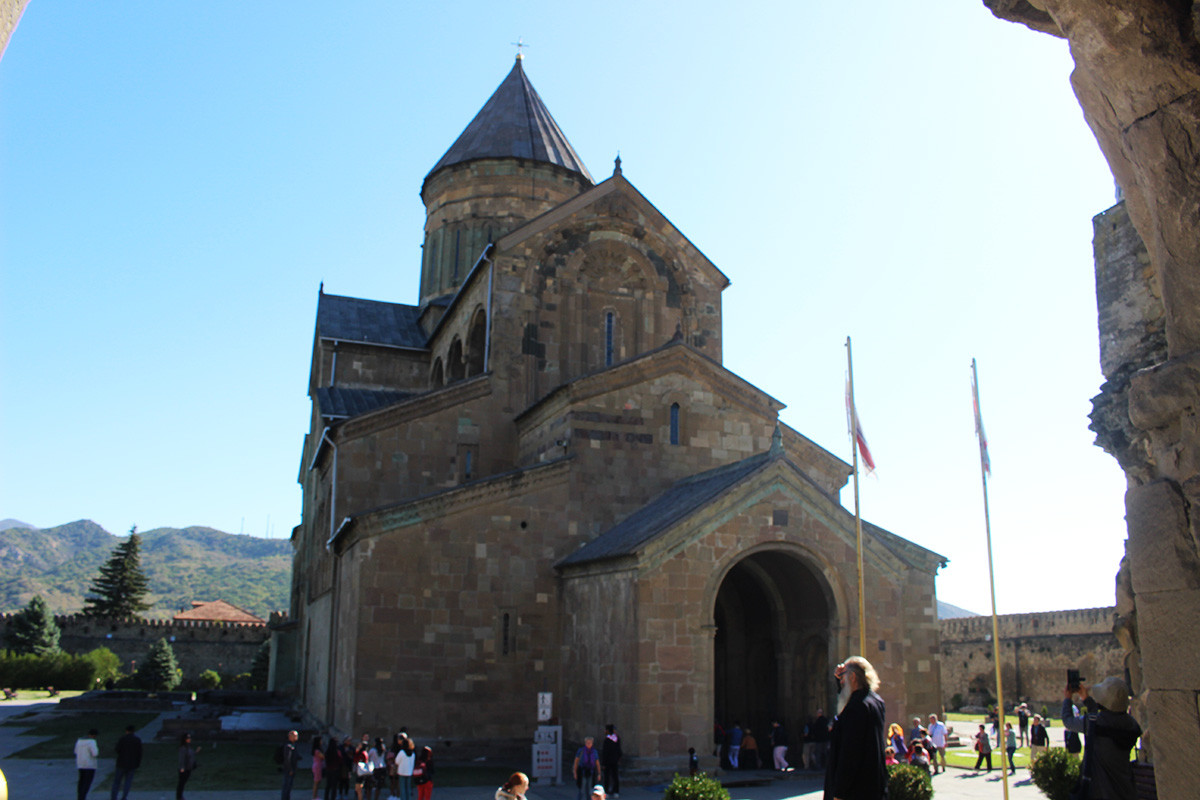 Svetitskhoveli Cathedral in Mtskheta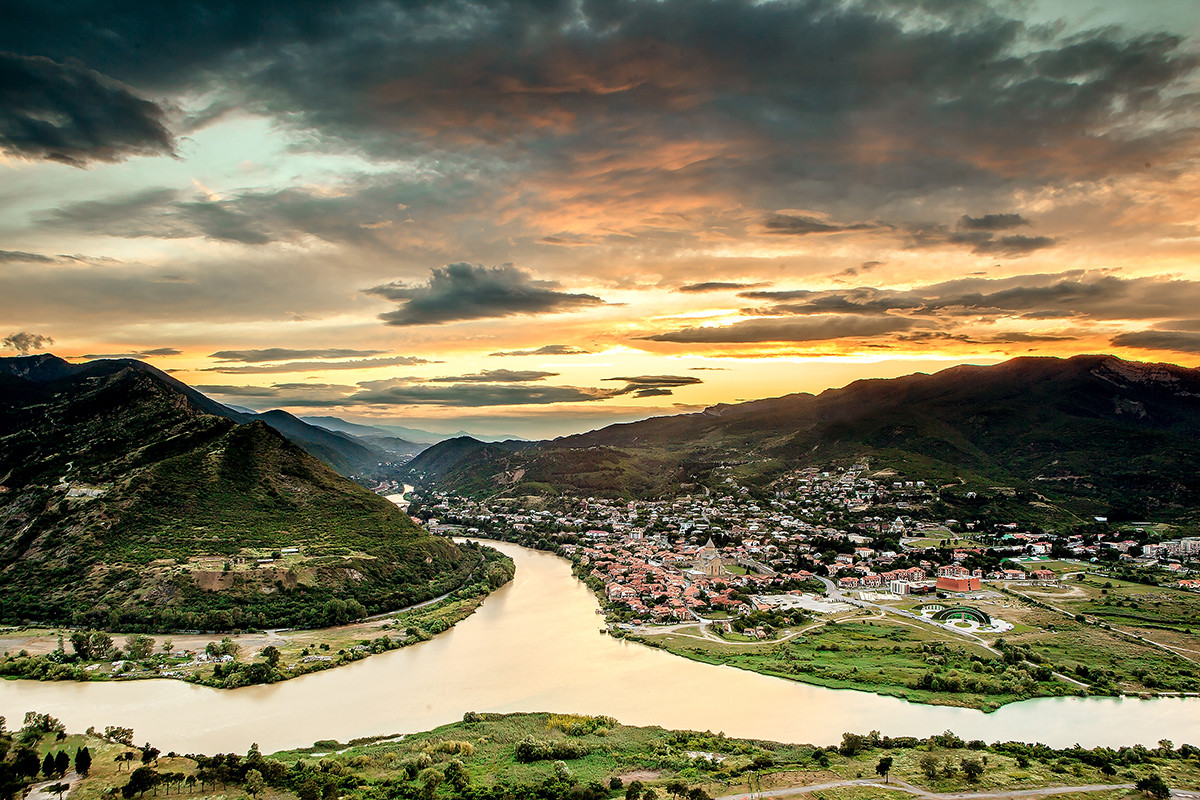 Confluence of Mtkvari and Aragvi rivers seen from Jvari Monastery
Mestia
Mestia is one of the most beautiful and remote towns of Georgia. It is in nine hours' drive from Tbilisi but definitely worth it. Located in a very remote Svaneti region, Mestia is a special place owing to the nature and the architecture. It is the home to numerous defensive towers built in the 11th and the 12th centuries.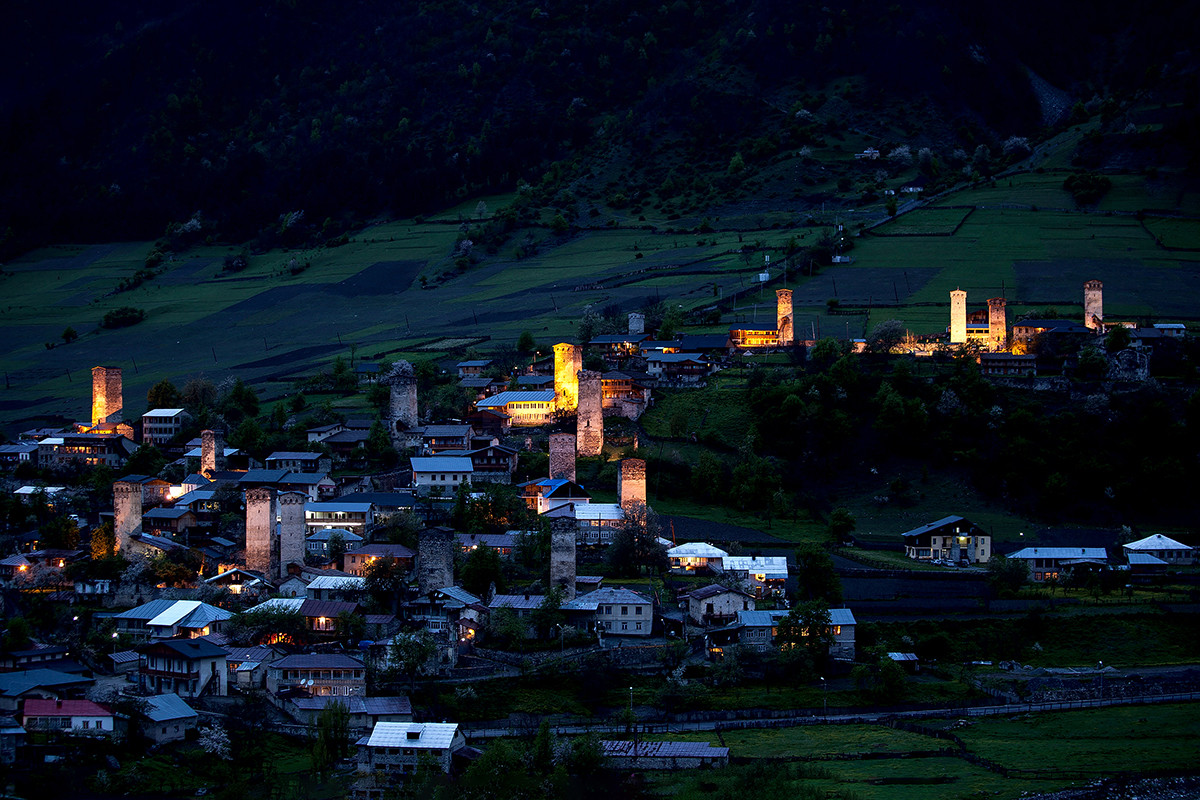 Mestia at night
People visiting Mestia should definitely visit Mestia National Museum and Mestia Ethnographic museum. Both of these museums very well describe the life of the Svan people (people from Svaneti region).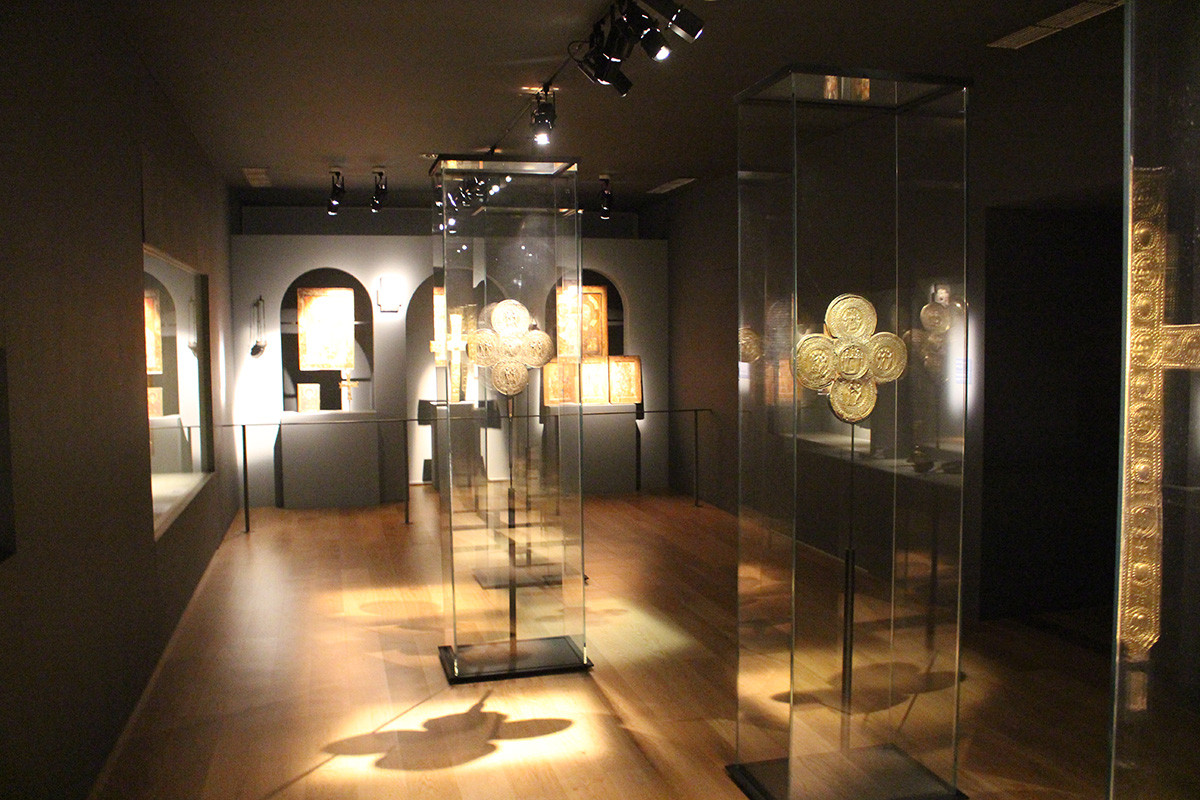 Mestia National Museum
Moreover, for winter sports lovers, Mestia offers skiing on Hatsvali and Tetnuldi ski resorts while there are numerous options for off-piste skiing. Near and around Mestia there are numerous moderate hike options like the ones to Chalaadi glacier, Hatsvali Mountain, Ushba waterfalls, from Mestia to Tsvirmi village etc. While being in Svaneti region one should definitely visit the village of Ushguli which is located in two hours' drive from Mestia and is famous for beautiful towers and the gorgeous La Maria church with the highest Georgian mountain Shkhara in the background.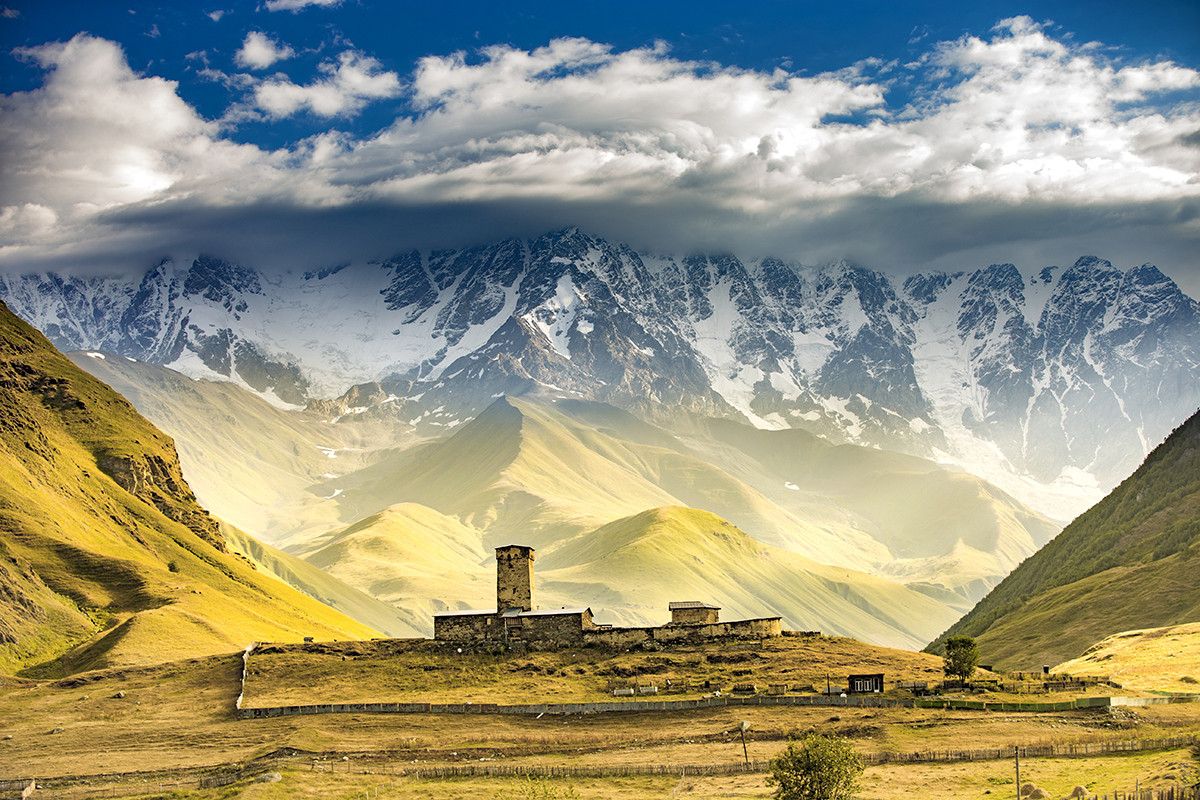 La Maria Church in Ushguli
Sighnaghi
Sighnaghi is a small cozy town famous for its views on wine-making Alazani valley and the Greater Caucasus mountain range. Owing to the fact that Sighnaghi was located on the silk road, the trade was going on therefore the city was rich and in the 17th century was surrounded by a huge defensive wall in order to avoid raids from North Caucasus' tribes. It is still possible to see the wall, even walk on it and visit one of its towers as well.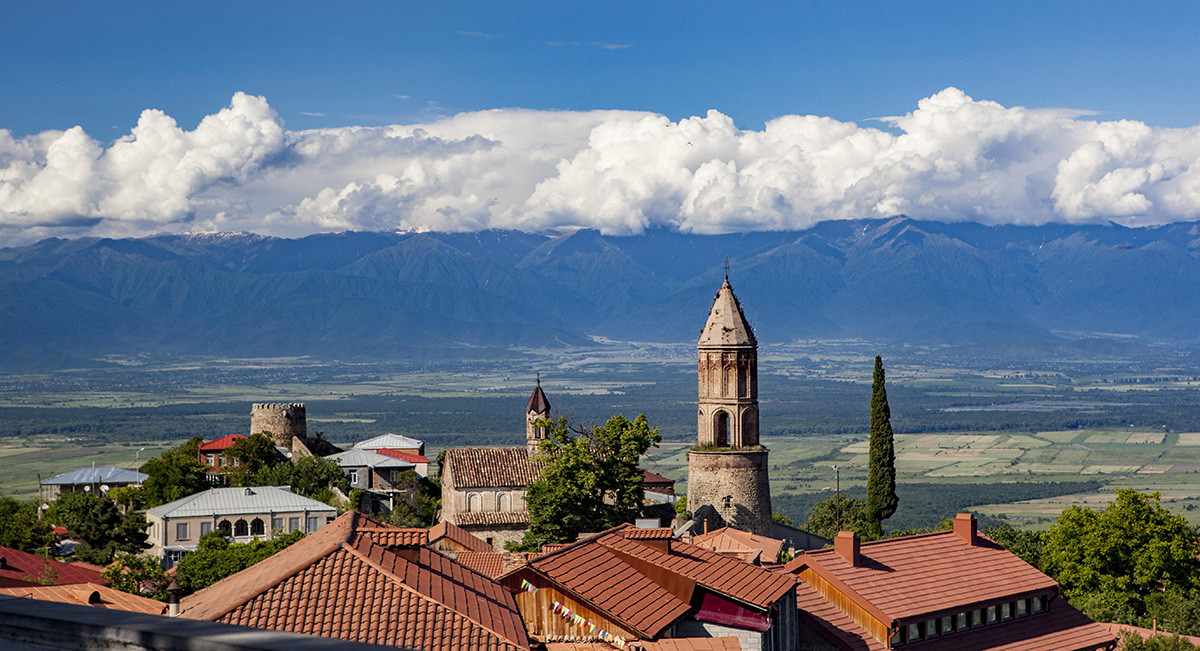 Sighnaghi
The architecture in Sighnaghi is very much like the old town of Tbilisi - very harmonic and with beautiful colored balconies. Sighnaghi offers very good restaurants and very good wineries. There are many options of restaurants starting from very traditional Georgian restaurants and ending with restaurants offering Georgian food with modern twist. The most famous restaurants are Pheasant's Tears, Okro's Wines and and Mtevani. Okro's restaurant has the best views though. Regarding wines – try for sure Okro's Budeshuri Saperavi and Pheasant's Tears' Chitistvala - both of them are red.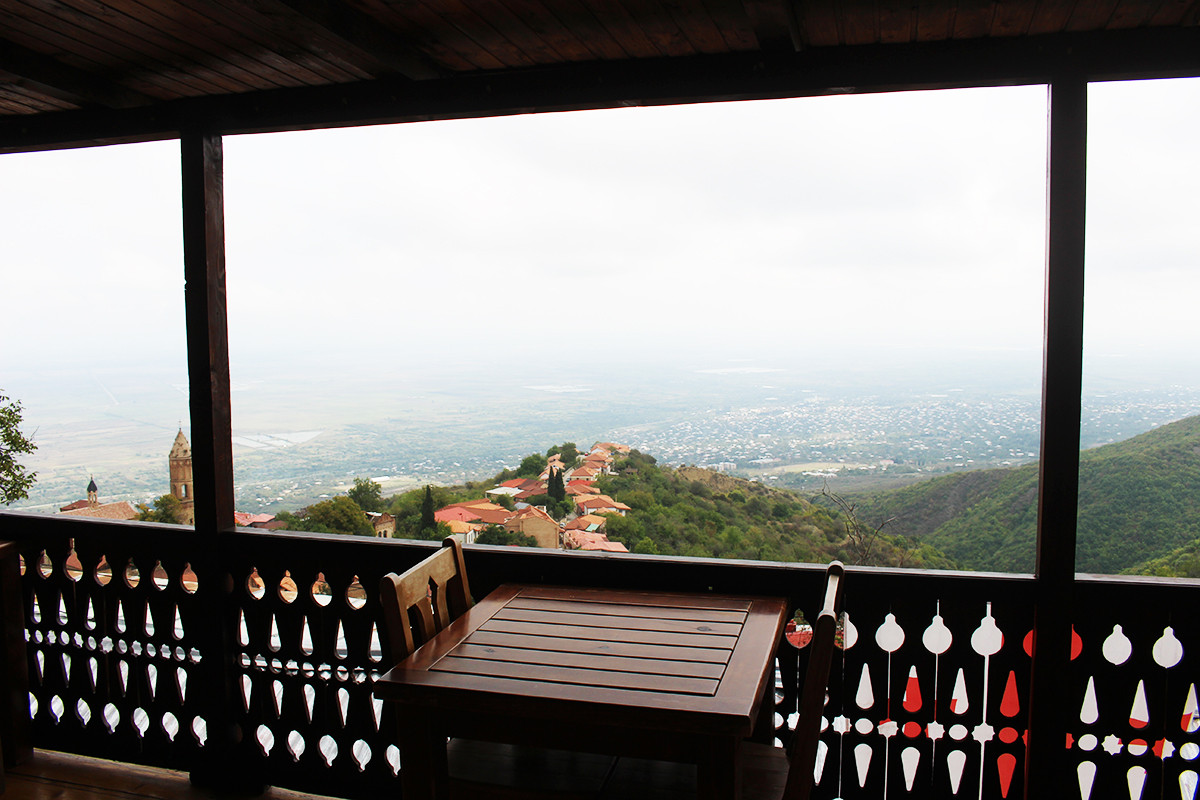 Okros Wines Restaurant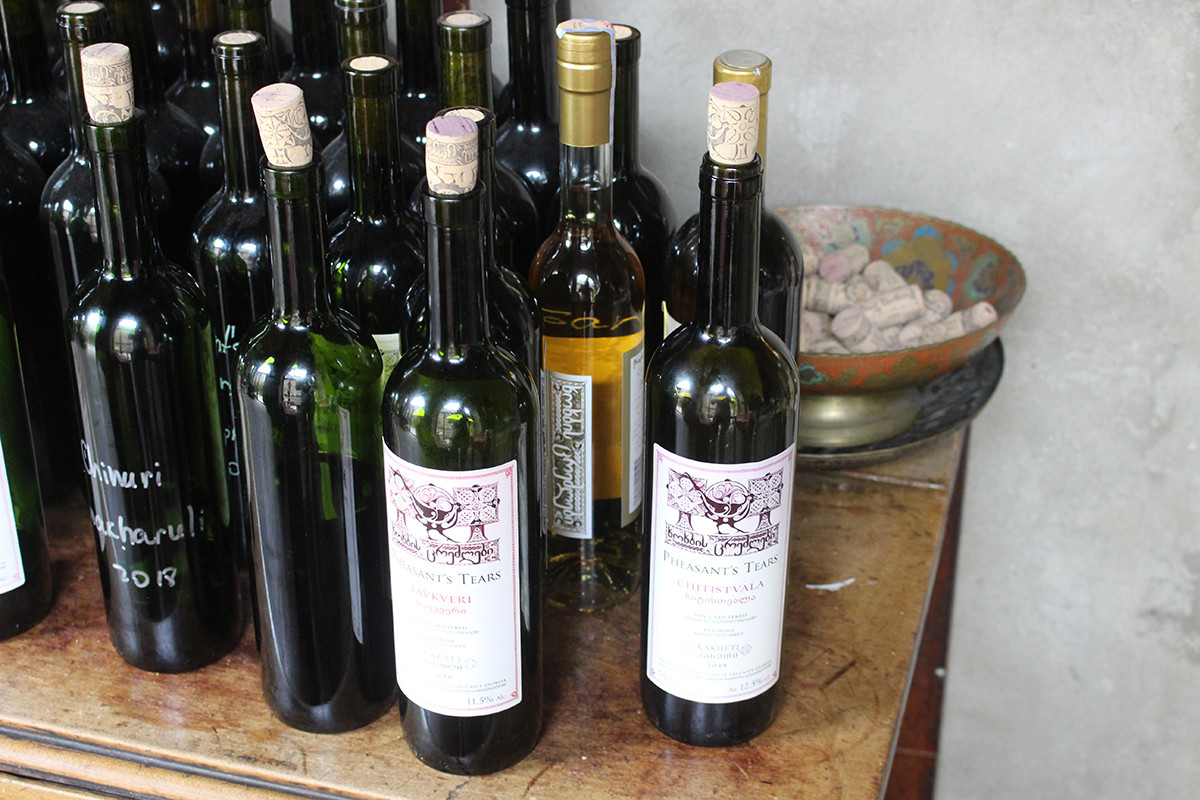 Pheasant's Tears Winery
Qutaisi
Qutaisi used to be the capital one day and during the soviet times flourished as and industrial city while today is famous for Unesco World Heritage sites, good food, summer style wines and very nice nature around the city. When you are in Qutaisi, you should definitely visit Gelati monastery famous for authentic mid-century frescoes. Moreover, in an hour drive from Qutaisi there are canyons of Okatse and Martvili where you can do a walk with very beautiful views and take a boat ride as well. Restaurants worth visiting in Qutaisi are Sapare and Palati. Moreover, there is a nice and cozy wine bar called Satsnakheli which is highly recommended as well.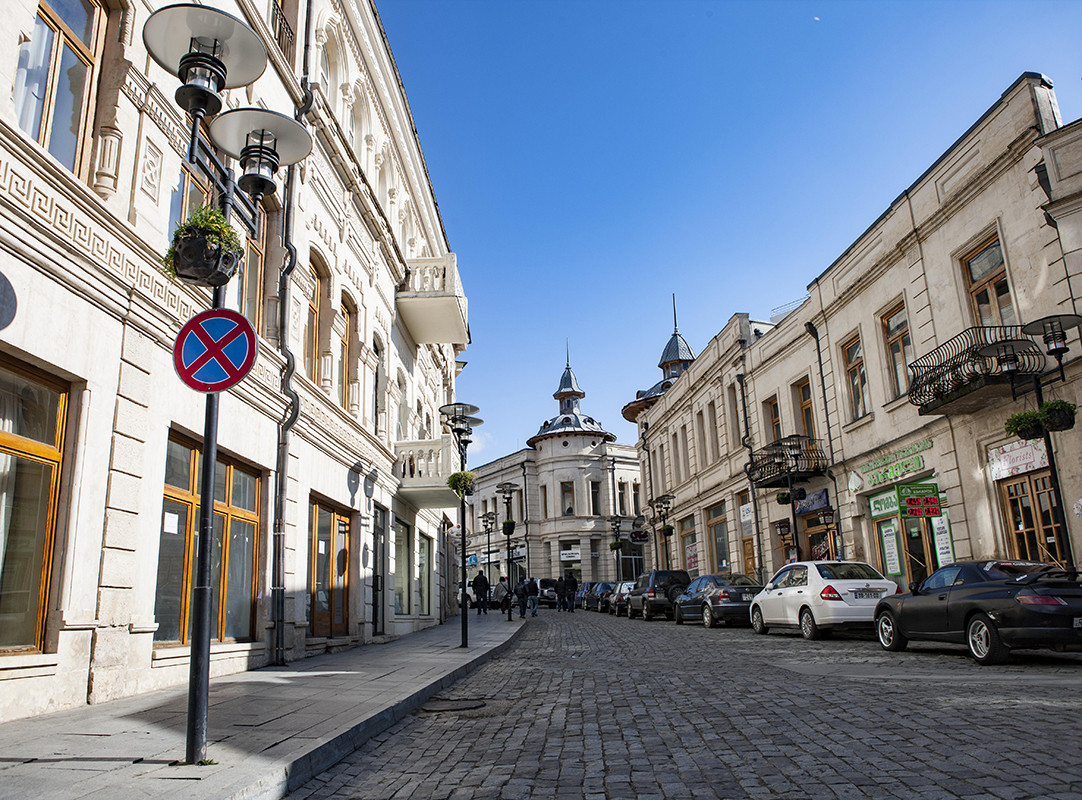 The old town of Qutaisi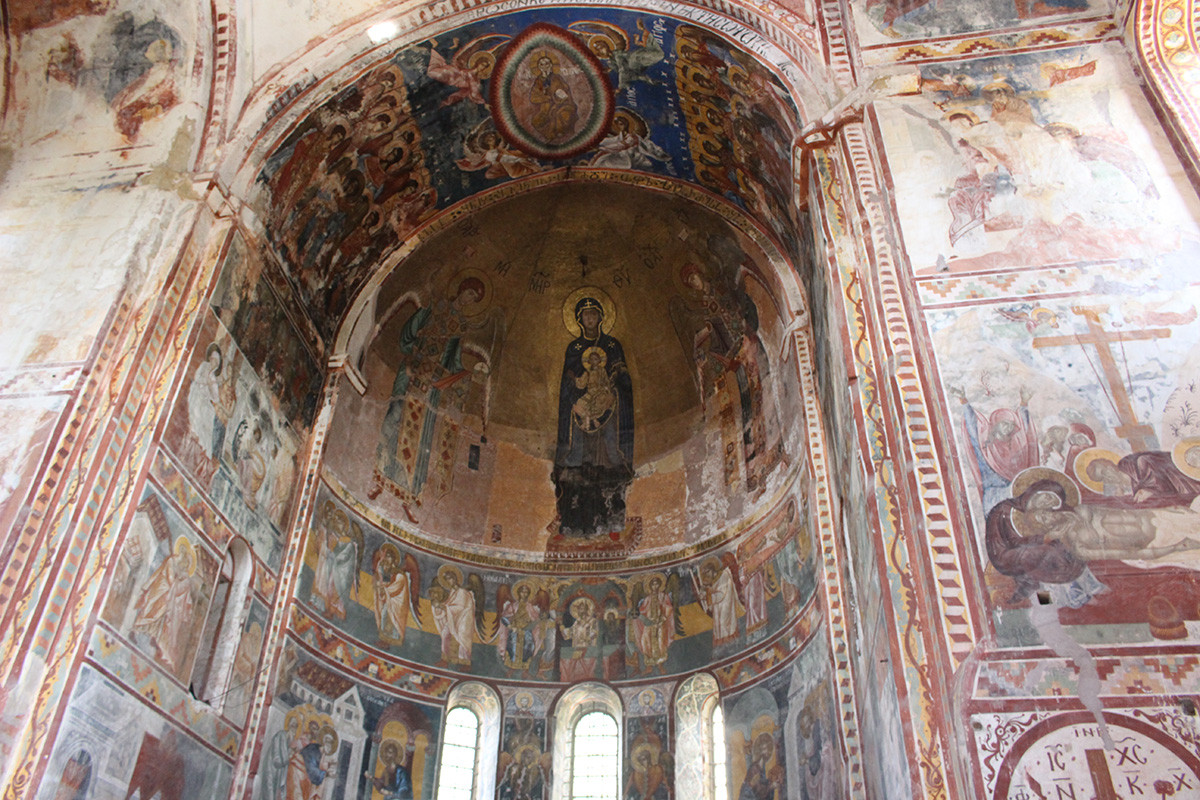 Frescoes of Gelati Monastery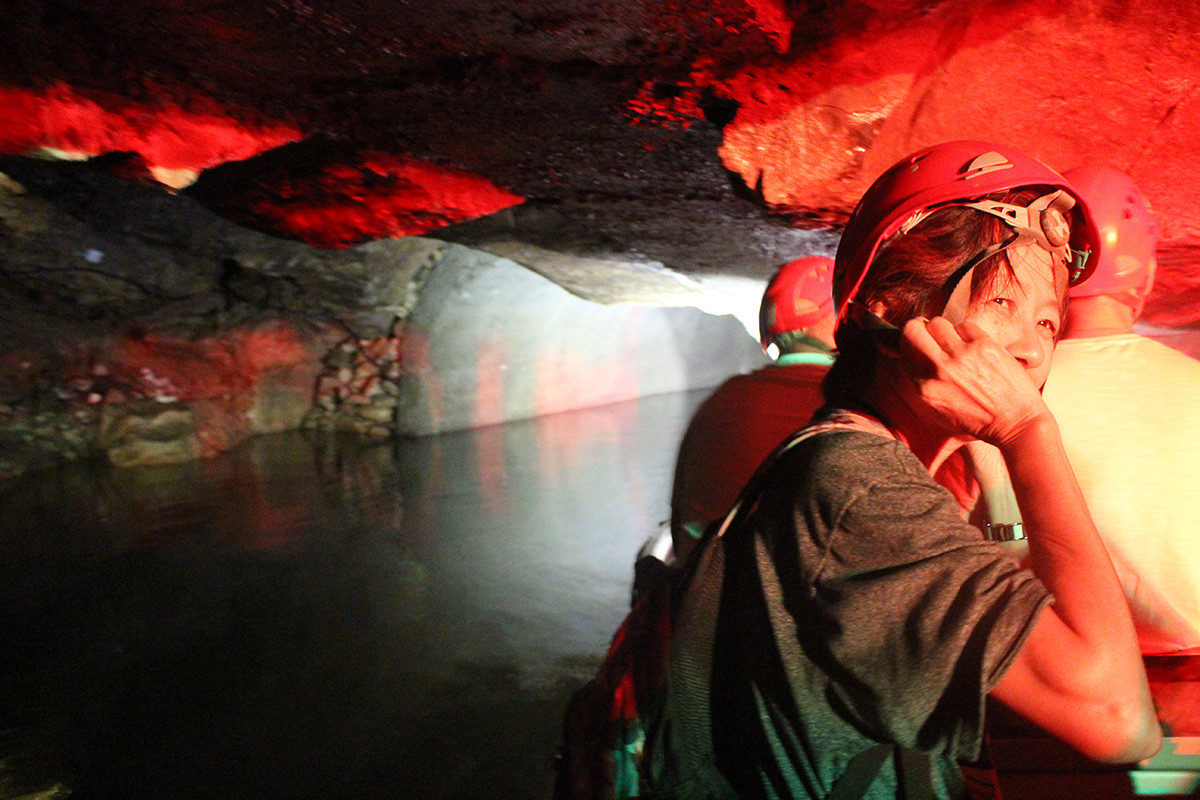 Prometheus cave near Qutaisi
Georgia has lot to offer and there are far more places that are worth exploring. Altough, these are the main ones and we will tell you more regarding off the beaten path places in our future blogs.