Georgia is a small and mountainous country in the Southern part of the Caucasus. Last year more than nine million people visited our country and we would like to list the five main reasons that makes our country special and interesting for so many people.
1) Special location – border between Europe and Asia.
Georgia is located on the border of Europe and Asia. Owing to its location one can find the traits of many cultures together and it can very well be felt in the country especially in architecture and cuisine. It was located on the crossroads of Empires and every one of them was trying to spread its culture and customs amongst Georgians, however Georgians were very successful in preserving their own customs as wells as small part of the customs were introduced from foreign countries.
From architectural point of view this mix of cultures is very well felt in the old part of Tbilisi. Here in the capital you can find both Western and Eastern style buildings. Moreover, in the heart of the old town one can find sulfur baths architecture of which was influenced from Persia (Iran) while in wine making Kakheti region even the King's Palace was built in Persian style in the 18th century. Although, in Tbilisi there are many Art Nouveau buildings built by German and Polish architects which underlines the European influence in our country. Regarding the cuisine - we have huge number of authentic Georgian dishes but it is fair to mention that certain dishes were introduced from the outside for instance Khinkali (dough with minced meat, spices & juice inside) which originated from Mongolia and Mongolians were the ones who introduced this dish to Georgians during one of the conquests.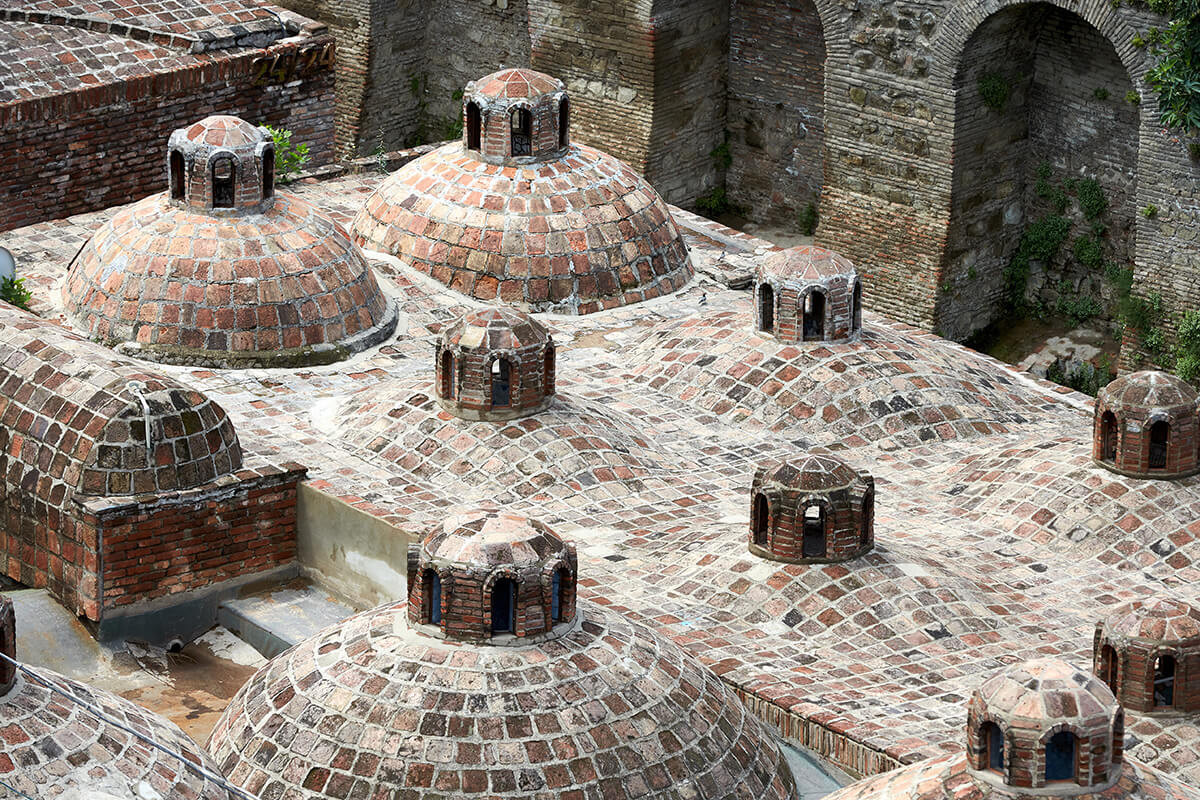 Georgian baths in Abanotubani, Tbilisi - influenced with Persian architecture.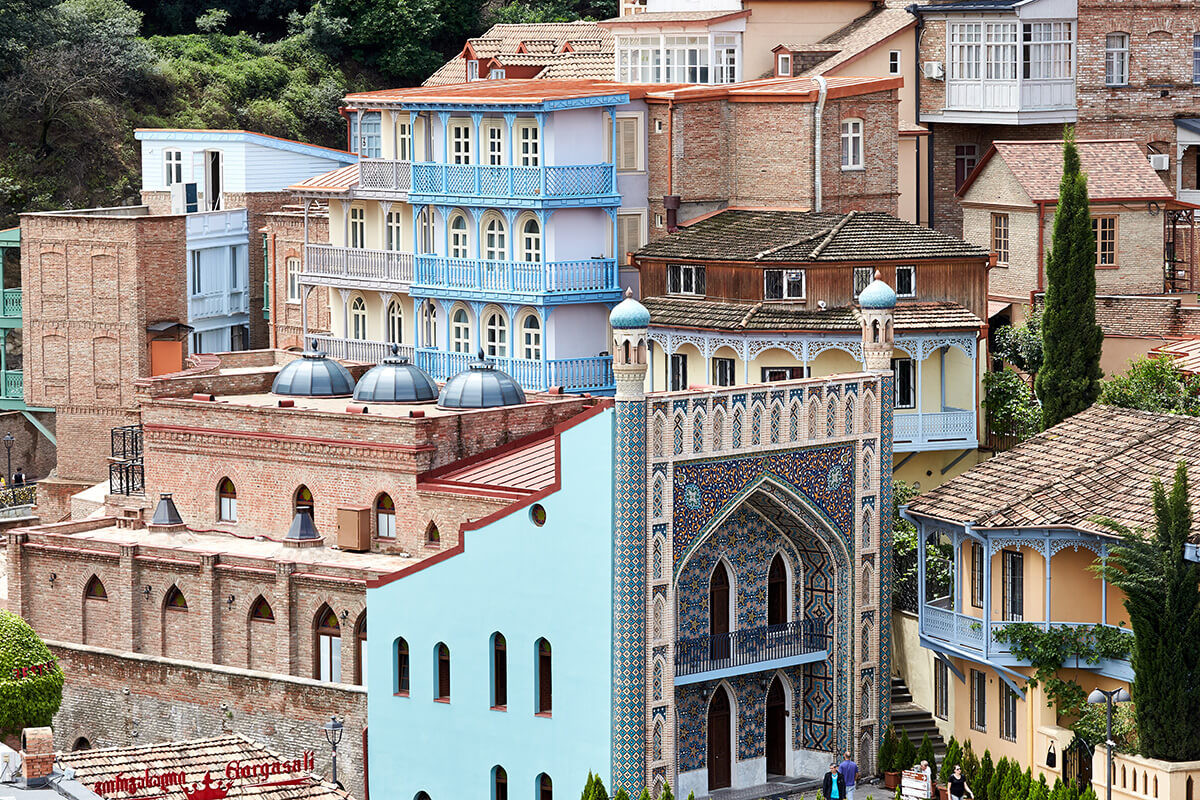 Chreli (Multi-colored) bath also located in Abanotubani, Tbilisi.
2) Diverse nature.
Georgian nature is very beautiful and diverse. We have highlands, plains in the west dominated by sub-tropical climate while the ones in the east by continental climate. Moreover, Georgia has huge semi-arid areas in the East. Although, many other countries have the above listed landscapes – advantage of Georgia is that it is a very small country and all these landscapes can be seen in several hours drive from each other and in many cases landscape and nature dramatically changes every half an hour.
Our mountains are gorgeous with very good skiing and mountaineering options. We have four ski resorts. The most popular one is Gudauri, the one for families is Bakuriani while for off-piste skiing both Mestia and Goderdzi resorts are very good. We think that Mestia is the most beautiful one though.
In the summer time hiking and biking activities can be done in the mountains as well as mountaineering activities. We have relatively easy mountain peaks to climb as well as the difficult/technical ones. For instance Mount Kazbegi in Mtskheta-Mtianeti region and Mount Tetnuldi in Svaneti are fairly easy to climb. If one is physically fit and can walk a lot he/she can climb both of these peaks but sure accompanied with a professional guide. Although, we have peaks like Skhara and Ushba in Svaneti which are very technical and only professional climbers can do it. Furthermore, for trekking lovers Tusheti is an off the beaten path paradise due to its location.
Semi-arid areas offer very beautiful sights. You should visit the areas of David Gareja and Vashlovani. In David Gareja the landscape is very dry and colorful. The landscape there has so many colors that people frequently call the David Gareja area the Rainbow Mountains. Another semi-arid area is Vashlovani National Park. It is not as colorful as David Gareja area but is very beautiful as well. There you can find Gazels (Georgian Antilopes) and Caucasus' Leopards, however do not have high expectations to see Leopards there are only four of them.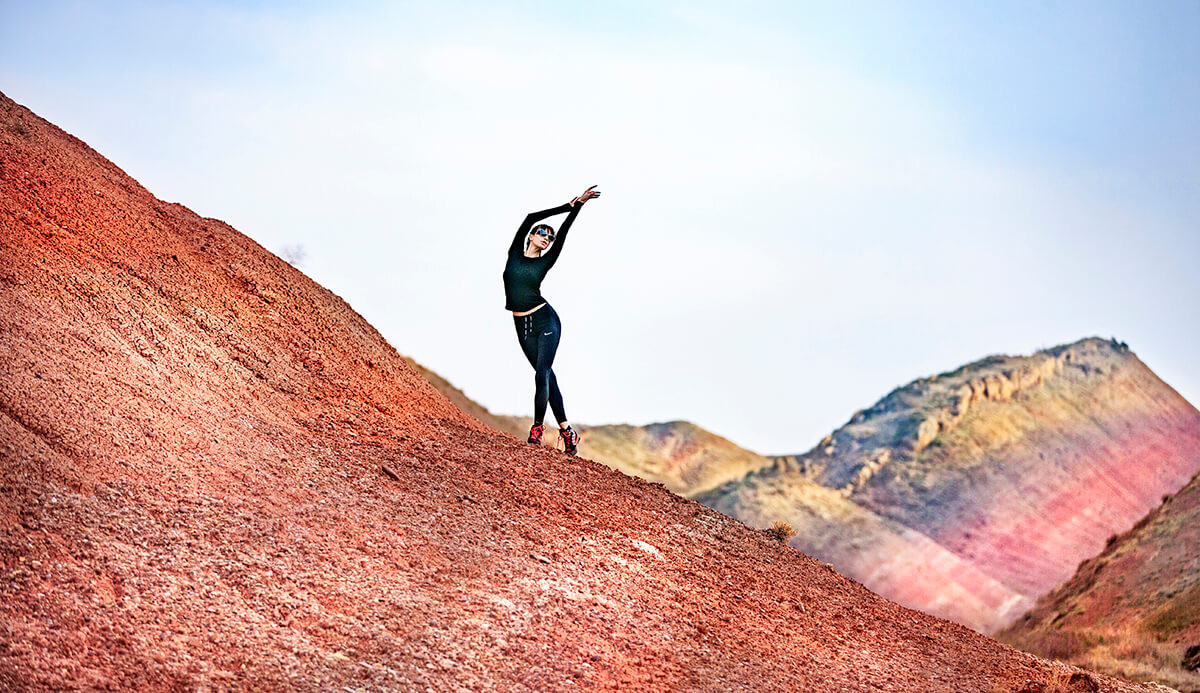 Semi-arid area David Gareja/Rainbow mountains.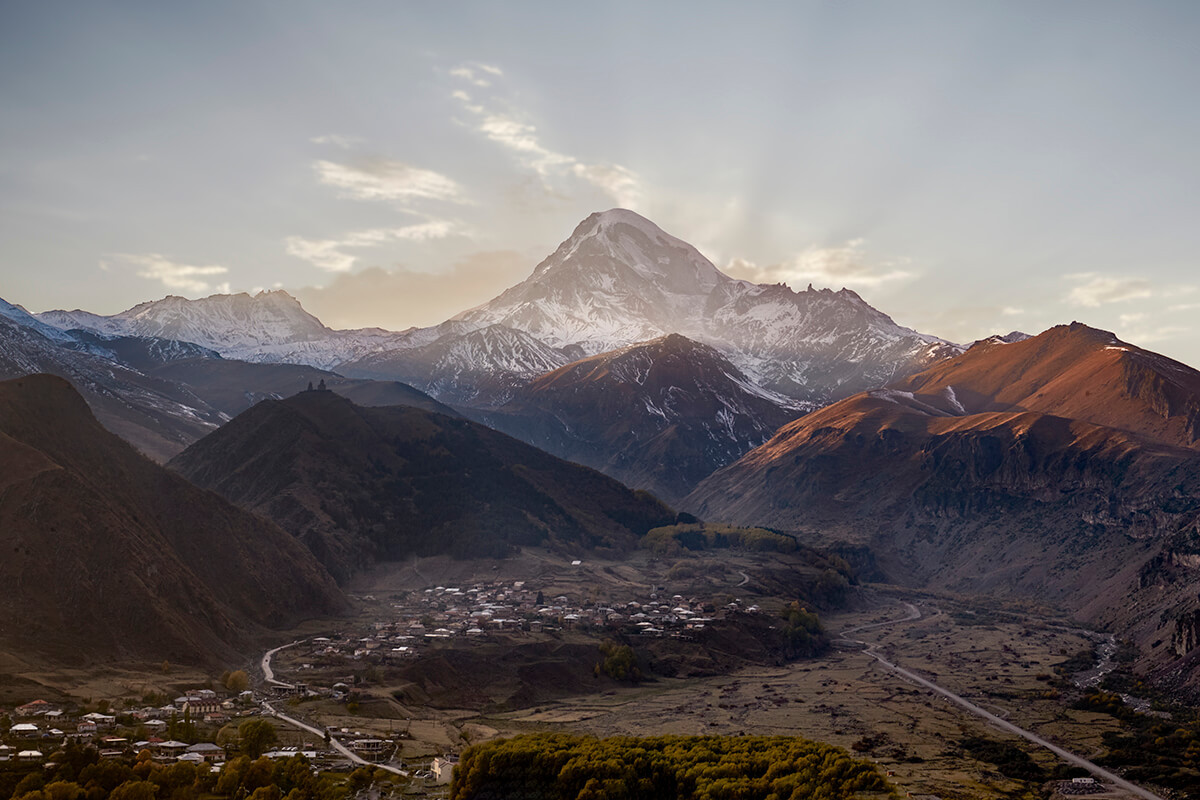 Mount Kazbegi.
3) The Georgian people.
Georgians are very friendly and sociable. If a person has ever interacted with Georgians he/she will say the same. Even though many Georgians do not speak English it is not difficult to communicate with them due to very friendly and hospitable nature. We have an expression that hospitality is in Georgian DNA.
4) Food and wine
Cuisine of Georgia is definitely one of the best ones in the world. It differs a lot from other cuisines and the diversity of dishes surprises even famous chefs. Each region of Georgia has its own cuisine and each region's dishes differ from the other ones. The most famous Georgian dishes are Khachapuri, Khinkali, Mstvadi (barbeque) and Elarji. If you come to Georgia you should try the must dishes listed above. Moreover, we have more than 500 endemic Georgian grape varieties and our natural wines done with the ancient method are of very high quality with very distinctive taste. If you get the chance to travel to Georgia you should try Rkatsiteli from the white ones and Saperavi from the red ones for sure – but note they have to be done in Qvevri (clay jar) with the traditional method.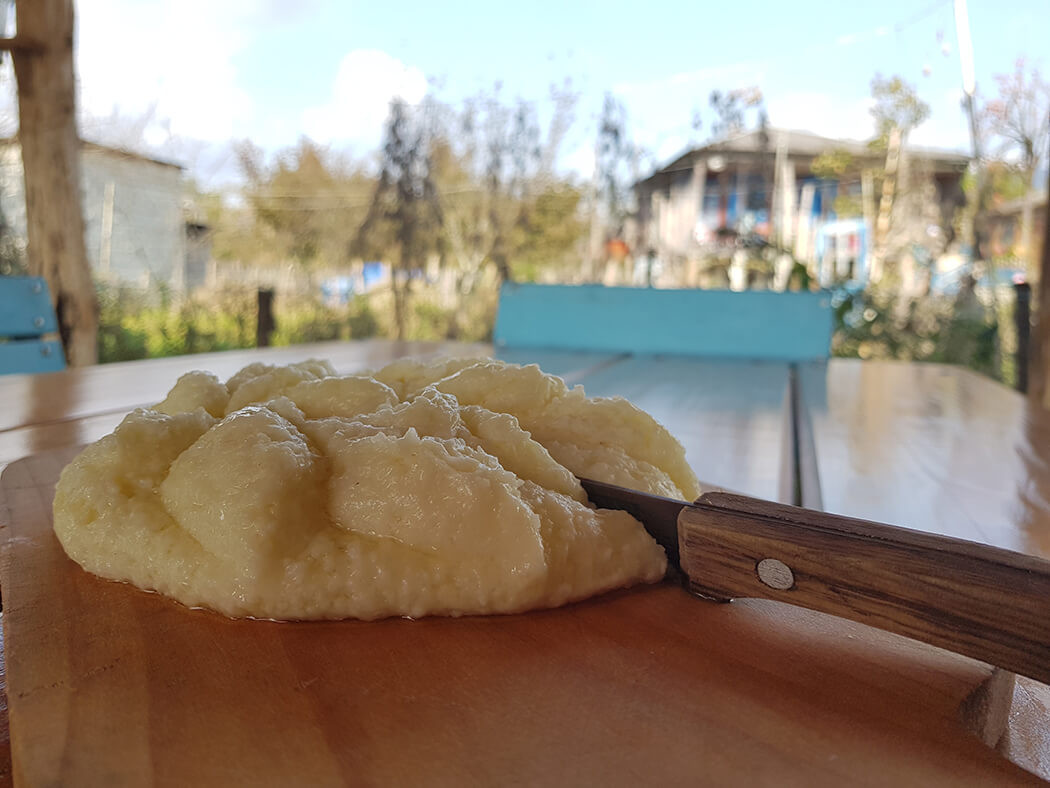 Elarji - famous Georgian dish made from boiled grits and Suluguni cheese.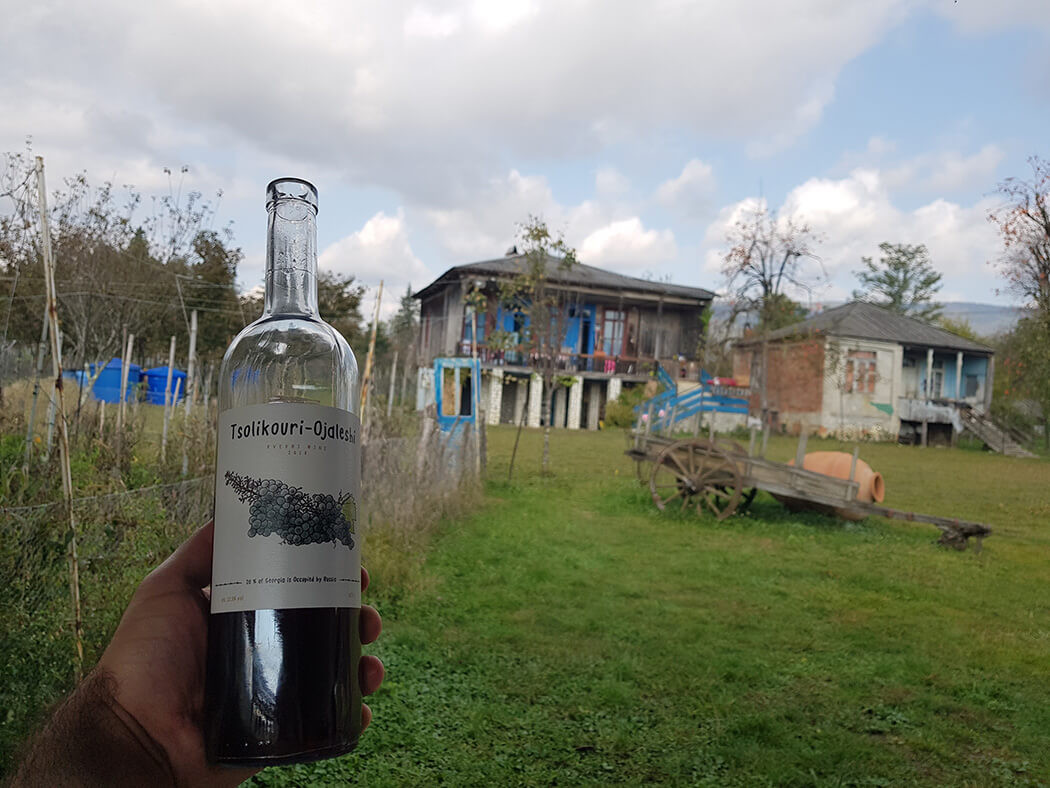 Georgian natural wine made in Qvevri (clay jar) - blend of two Western Georgian grape varieties Tsolikouri and Ojaleshi.
5) Rich history and culture.
Georgia is a very rich country with its history and culture. Ancient Kingdom of Kolkheti was located on the territory of nowadays' Georgia. Ancient Georgians were very good at jewelry and gold work. Moreover, Georgia is the home to numerous ancient ruins and towns. One of the ancient cave towns is Uplistsikhe foundation of which dates back to first millennium B.C. while Kingdom of Colchis existed long before Uplistsikhe. Furthermore, the oldest gold mine in the whole world was discovered on the territory of Georgia which dates back to 5000 B.C. therefore ancient Georgians were mining gold 7000 years ago while Unesco stated our country as the cradle of wine making. Wine making culture dates back to 6000 B.C therefore we have 8000 years history of wine making. Also Georgia is one of the earliest Christian countries with Christianity introduced to Georgians in 319 and Georgia is the home to numerous very old Christian Orthodox churches.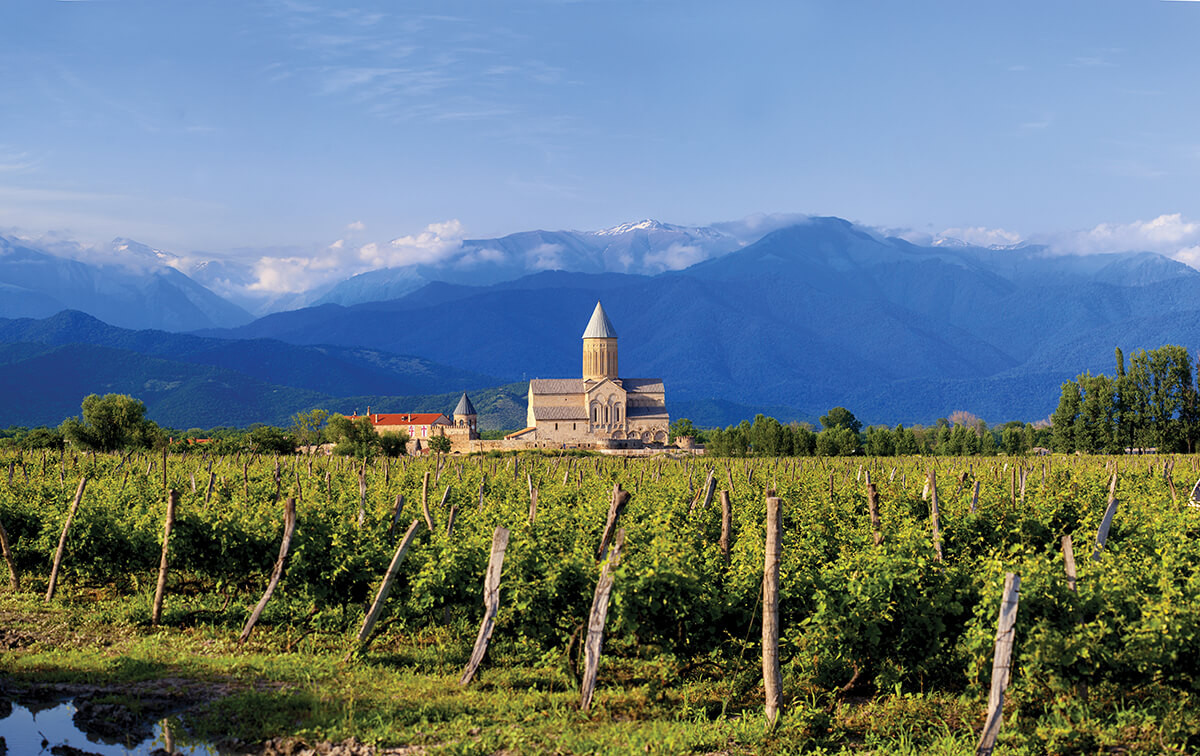 Vineyards in Kakheti region with the background of Alaverdi monastery and the Greater Caucasus.
Eventually, we can list many other reasons to visit Georgia but these are the main ones. If you have the opportunity to visit our beautiful country you will find the other reasons as well very easily.